A revolution in data quality: introducing Talend Data Quality Service
Business leaders everywhere agree: there's too much bad data out there. In fact, 82% of data executives say data quality is a barrier to their projects. Data volumes continue to grow more
complex, with more data sources, more data types, and more data velocity. And this means that there's more bad data infecting systems faster than ever before. With the rise of AI-powered applications, even a relatively small amount of bad data can almost instantly propagate across every department in a business.
And as this bad data multiplies, business leaders make poorer decisions based on inaccurate or incomplete reports, analytics, and insights. These decisions erase revenue and profitability, bring time to market to a standstill, erode customer trust, and significantly increase compliance risks. It's no wonder that, according to some estimates, bad data can cost an average of $12.8 million per year per company.
With no visibility, metrics, or dashboards to help businesses understand data quality, solving these issues can feel like an insurmountable challenge. And a predicted shortage of data experts over the next several years means that it will be next to impossible for many
organizations to find workers with the expertise needed to clean, filter, and integrate their data. Even if you do manage to find the right candidates, it takes more time and money to train them and keep them up to speed on the latest tools, technologies, and best practices for achieving high-quality data.
It's time to start thinking differently about data quality
When organizations began to embrace managed cloud services for their data infrastructure needs, they saw massive improvements in usability, scalability, and cost savings compared to legacy on-premises systems. A similar shift can work for data quality — instead of relying on costly in-house programs and scarce resources and expertise, a managed service can free organizations to focus on their business instead of their data quality.

Healthy, high-quality data should be in reach for every organization, and we think there's a better way to get there – one that's lower cost, highly scalable, and provides a continuous stream of high-quality data faster than ever before. And that's why we're introducing Talend Data Quality Service.
The modern approach to data quality
Talend Data Quality Service (DQS) is a managed cloud data quality service that helps you continuously monitor and assess the quality of the data flowing through your business. The service combines access to some of the best data quality experts in the industry with Talend's market-leading data quality technology. Our technology and methodology have been honed and proven over 15 years with thousands of customers across every industry.
To get started, Talend data health experts meet with your team to understand your needs and expectations, review your datasets, and work with you to define the quality and monitoring rules that should be applied. This process includes data profiling to understand your data's structure and typology through various analyses and indicators, which our experts will share with you.
Next, our experts apply the standardizations and, based on the initial results, work with you to apply additional corrective actions. This kicks off a continuous process of monitoring and alerting determined by the data quality KPIs you defined. Our experts assess your data quality based on its accuracy, completeness, consistency, timeliness, uniqueness, and validity.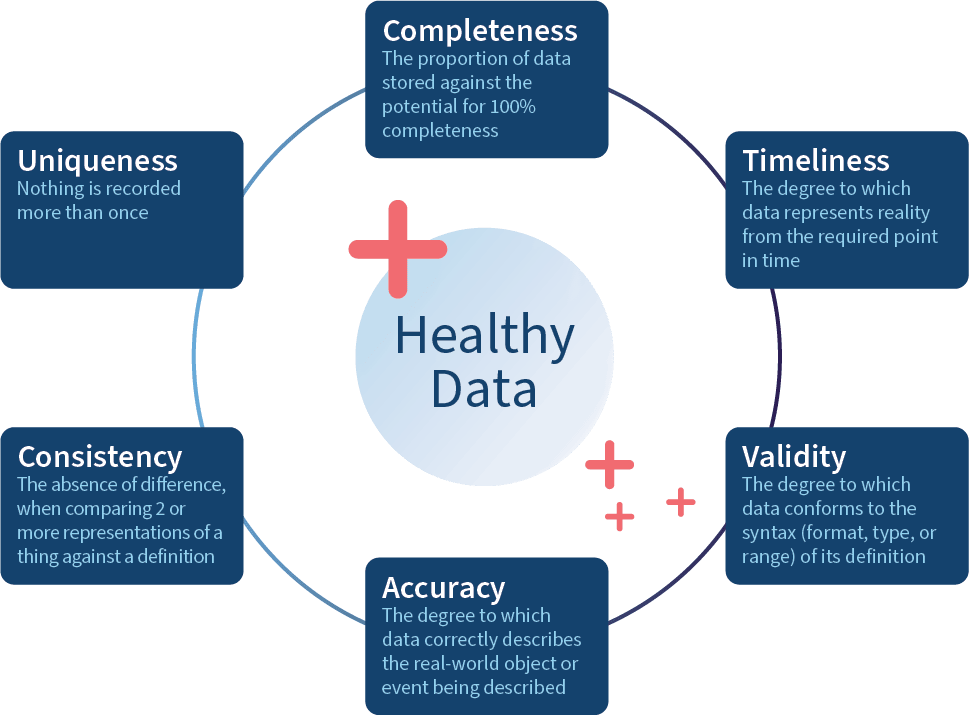 Finally, as you receive recommendations, alerts, and notifications during each iteration of the monitoring cycle, operationalization allows you to proactively take corrective actions and fix bad data at the source before it can spread throughout the organization.
Keeping tabs on the quality of your data is a vital step for improving overall data health. Just as you use a car's dashboard to continuously monitor key indicators like speed, fuel level, and mileage to make the best driving decisions, data quality dashboards can provide vital insights into the state of your organizational data so you always make the best business decisions.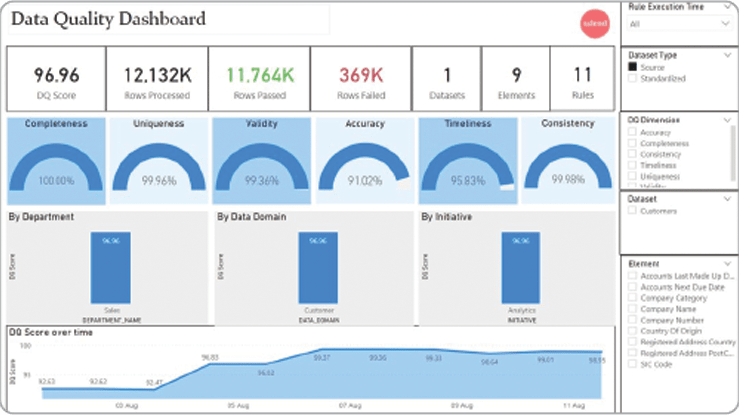 Talend DQS provides reports and dashboards to give you visibility across KPIs for any point in time, so you can easily view data quality trends over time, identify possible quality issues, and drill down to their root cause. And you can trigger actions based on defined thresholds, so you can quickly take corrective action and fix bad data before it spreads.
The fastest path to healthy data
With Talend DQS, you get a best-of-breed software solution and the human expertise to make it work flawlessly. This means you don't need to worry about hiring more people or adding resources when data volumes grow or new challenges pop up. We've done data quality for a long time, and we know what it takes to create environments where high-quality data can thrive. (Seriously, we wrote the book on it.) And we've been recognized industry-wide as a leader in data quality for years. We'll focus on what we do best, so you can focus on what you do best.
Your company deserves better than "good enough" data quality. Contact us to get started today.